Black & White
Your archive plans can be scanned and digitally archived, or sent electronically to another site. We also offer full restoration of old plan sets and archiving services including indexing. When San Luis Coastal Unified School District needed 16,000 drawings scanned and digitized, they came to us. Let us digitize your bulky plan files.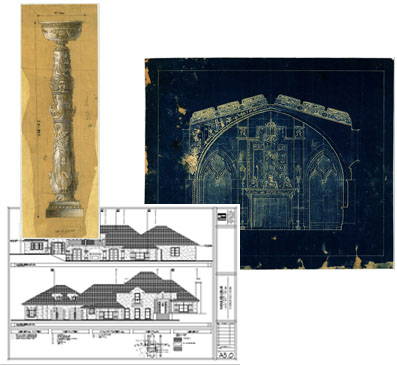 Color
ASAP Reprographics is your cost-effective solution for fast, archival-quality, full-color scanning using our Contex 54-inch, super-wide, full-color scanner. Our system renders gradation as well as many colors that would be out of range with other technologies. We can scan up to 0.6-inch (15mm) thick originals such as foam boards, gator boards, etc.
Our quality is unsurpassed. This is why both the Hearst Corporation and Hearst Castle chose us to scan and archive over 13,000 priceless Julia Morgan original drawings.
Image Quality Without Compromise
With 508dpi optical resolution, the combination of highly sensitive 4-channel CCD cameras and full-sized camera lenses, the HD5450 scanner provides the best image available in wide-format scanning.
Contex HD5450
508 dpi optical res.
9600 dpi max. res.
48-bit color, 16-bit grayscale
3.0 inch/sec. in 24-bit RGB color
3.0 inch/sec. in 8-bit index color
12.0 inch/sec. in Grayscale/Mono